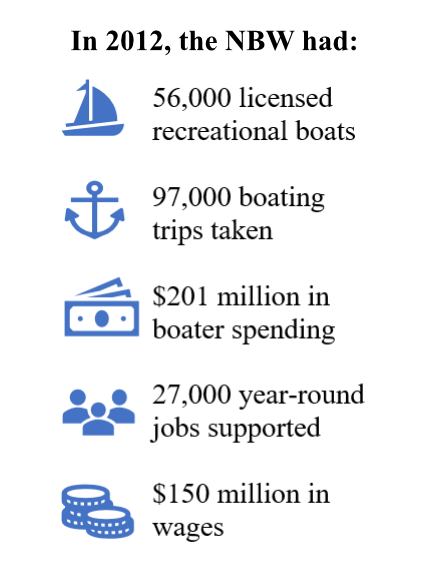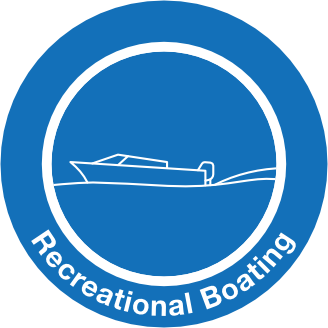 Recent Trends
Recreational boating contributes millions to the watershed's economy: in 2012, there were over 56,000 recreational boats registered in the NBW, with 63% in RI and 37% in MA, which took over 97,000 trips that year. Boaters spent over $650 million (2016 dollars) on expenditures such as food and lodging ($510 million in MA and $140 million in RI). This spending helped to provide over 2,700 jobs with over $150 million in annual wages.
Recreational boating draws in tourists: in 2012, 21% of expenditure in RI came from nonresident recreational boaters. This is the highest nonresident spending percentage in all of New England. In MA, this figure was much lower at 4% (see graph).
Fishing is the most popular activity associated with recreational boating: an average of 43% of boaters in MA and 34% of boaters in RI fish when they are on the water. Thus, the recreational boating industry has important ties to the recreational fishing industry, which also has a significant impact on the economy (see "Recreational Fishing").
Our numbers are conservative estimates: a state-level study of just Rhode Island found that manufacturers, service providers, professional services, construction and transportation enterprises associated with recreational boating, as well as sole proprietors and out-of-state boaters, spent over $1 billion (2016 dollars) in the state in 2012. This supported 6,300 jobs with wages of over $291 million. Therefore, the above estimates may be conservative assumptions of the impact of recreational boating on the NBW's economy.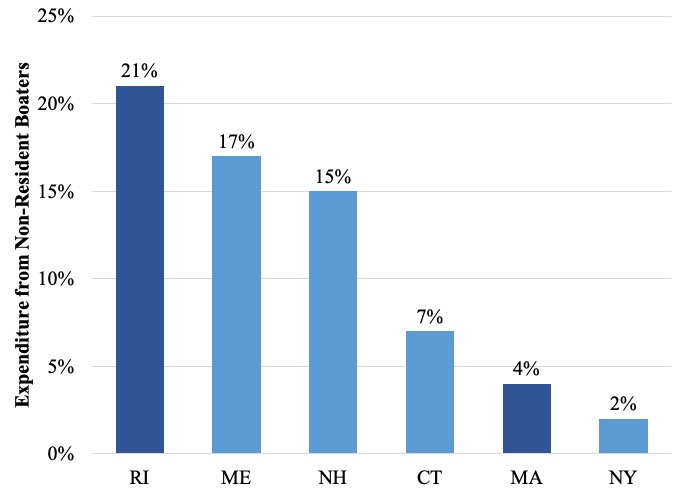 Future Outlook
Given that recreational boating often includes activities like fishing, swimming, clamming, and sightseeing, the industry is sensitive to changes in the environment that may arise because of climate change and human developments, specifically as they relate to water quality. These include declining water clarity, rising water temperatures, and increasing pollution from human populations and development. Increased water temperature can also lead to increased occurrences of algal blooms, which impair or even close recreational waterbodies. Currently, 85% of studied estuarine waters, 40% of freshwater streams and rivers, and 80% of lakes and ponds are acceptable for recreational use in the NBW – maintaining proper water quality will help ensure these waterbodies stay safe for boaters. Additionally, rising sea level may reshape the current systems of docks and moorings, requiring changes and investments in more resilient infrastructure. Adaptation to these changes, as well as measures to protect water quality, are key in supporting the future of recreational boating in the NBW.
Read the full recreational boating chapter